Google's SSL changes mean more than just a secure internet – it could mean thousands in lost revenue if your website is left unchecked.
Imagine this scenario
You've got leads coming into your website regularly, your SEO is performing well, and because you have an ecommerce store, they're making purchases with ease
And then one day, it all stops.
No leads. No purchases.
You're scrambling around your website trying to work out the 'leak' and why your website isn't performing the way it used to just a few short months ago.
You update your SEO.
Nothing.
You check your payment gateway.
No payments are being accepted.
You sit in front of your computer wondering what happened.
So you search for the solutions – and it comes down to two changes Google is making: SSL and HTTPS.
How much would scenario this cost your business? Hundreds? Thousands?
Now I can hear what you're saying, 'Why is Google making these changes? To penalise my business site?'
No – Google is making changes to help customers find reputable businesses and keep their data (and yours safe).
Let's break it down.

What is SSL?
SSL stands for Secure Socket Layer and is sometimes used interchangeably with the term TLS – Transport Layer Security. It's just a fancy cryptographic protocol that helps encrypt communications over a computer network.

What is HTTPS?
HTTPS stands for Hypertext Transfer Protocol Secure. It's used to transmit secure communications over a computer network, like the internet. It helps keep your data safe so no one tampers with it and to make sure it isn't forged. (HTTP is the non-secure version of HTTPS.)

What is the change?
In 2014, Google announced a call for HTTPS to be used on every website, and their reasons for the change was to make a more secure internet.
The three reasons Google has for securing your website are:
Authentication
Data Integrity
Encryption
Authentication verifies the ownership of your website, because there are people out there who will make replicas of your website in an effort to steal from you. (Most people know to check for the green lock in the address bar before handing over their personal details.)
Data integrity means whether or not the data has been tampered with when it's in transit. If someone knows your website isn't secure, they can tamper with the data being transmitted.
Encryption is the security of the communications between the client and the server to make sure no one else can read them. It's important to encrypt the data in forms, as well as credit card information for ecommerce sites.
So what does this look like?
On a website, it looks like this: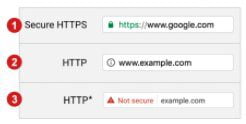 Image credit: Netregistry
1. ? The secure security status is the one you may have seen already (if you use Chrome). It's the green lock, which means a SSL certificate correctly installed and the site is secured.
2. ? The info or not secure status means the website isn't using a private connection.
3. ⚠️ The not secure or dangerous security status, which is a website that's flagged as dangerous. Google plans for all website without an SSL certification to display the 'not secure' red triangle in Chrome browsers.

When does this change happen?
From 1 October 2017, Google will roll out (in stages) various security warnings to users attempting to access sites without HTTPS. This will heavily impact the amount of traffic going through to non-secure sites, no matter what marketing or SEO you have already, or continue to do without the SSL certificate.
What does this mean for you?
If you don't have an SSL certificate on your website, you run a massive risk of losing valuable business – especially for those who rely on their website traffic for direct leads and sales.
You could lose up to two thirds of your traffic.
Without an SSL, website owners may not be viewed as 'legitimate' to new customers searching them online.
Existing customers may not be able to make a purchase either, as eCommerce payment gateways are stopping all payments going through non-secure sites.
So what would NOT having an SSL certificate cost your business?

What can you do to avoid this?
Ensure that your website (and traffic) is protected from Google's major algorithm update come 1 October 2017 by upgrading your website platform and having your SSL certificate correctly installed and tested across your entire site, including all your images, forms and content.
We're already in full swing of upgrading clients and have a dedicated team in place to handle projects smoothly and with minimal impact on clients.
So, it's not a matter 'if' you'll make the switch, it's a matter of 'when' to ensure your website experiences consistent traffic, leads, and of course, sales.

Don't miss this chance to upgrade your website and ensure you don't suddenly undo all your SEO and lose valuable traffic and sales – all it takes is one simple phone call to get the ball rolling.
Call us today on 1800 932 123 to discuss your options.